Hello, I purchased a FlashCatPro last week. It just arrived. When connected to the computer, it shows up in Device Manager with a yellow exclamation: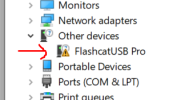 I downloaded the latest FW from this Forum:

And when I try to "Update the driver" and browse to the "Driver" directory, I get this error message:

How do I install the Driver????
Thanks,
Darren