I need help in connecting this MSI JSPI1 cable and adapter (IMAGE01) just purchased from Embedded Computer and connected via FlashCat Classic to an MSI H67MS-E43(B3) JSPI1 motherboard.
IMAGE 01

Image 02 is the JSPI1 pinout of the board with pin 1 located in the upper left hand corner of the pin set. I am assuming the red line on the cable tape is to be connected to pin 1 on the motherboard as well as to pin 1 on the FlachCat Classic.
IMAGE02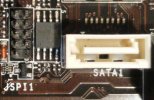 The third image is shows the connection of the JSPI1 adapter to the FlashCat Classic using the array designated on the adapter for an MSI 9 pin set up. The red line is connected to what is indicated as pin 1 on the FlashCat device as indicated in image 4. Image 5 shows the other end of the cable tape connected to the JSPI1 pin set on the motherboard with the red line of the cable tape in the upper left hand corner on pin 1.
IMAGE03 IMAGE04 IMAGE05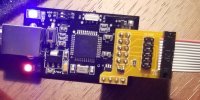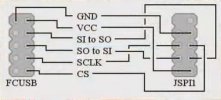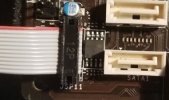 I get the following error message Image 6:
IMAGE06

The BIOS chip is a Winbond 25xxx series so it should be recognized. I have just about enough knowledge of this topic to get into some real trouble.
Any help will be appreciated. Is anyone in the BlackCat Board Community and/or Embedded Computers Tech Admin willing to take this novice by the hand and troubleshoot through this?
Any help is greatly appreciated.